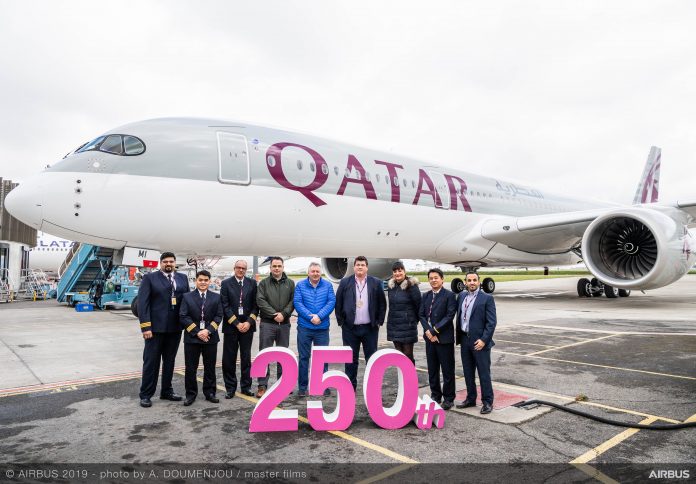 Qatar Airways today celebrated the arrival of its 250th aircraft, an Airbus A350-900 from Toulouse, France, the latest addition to the group's growing fleet of passenger, Cargo and executive aircraft.
This impressive landmark comes just 22 years after the carrier began operations, and is testament to the incredible growth of an airline that has become world-leading in that time, winning a host of awards, including the Skytrax World Airline of the Year accolade on no less than four occasions.
The new A350-900 joins the airline's state-of-the-art fleet, where the average age of aircraft is less than five years old. As of 20 March 2019, Qatar Airways' fleet is made up of 203 passenger aircraft, 25 Cargo and 22 Qatar Executive jets.
Commenting on the achievement, Qatar Airways Group Chief Executive, His Excellency Mr. Akbar Al Baker, said: "I am extremely proud that we have reached this historic landmark of having a fleet that now numbers 250 aircraft. The delivery of our newest Airbus A350-900 is a mark of the outstanding growth we have seen over the last two decades, and to our commitment to flying only the newest and most technologically advanced aircraft in the world.
"Qatar Airways is moving forward with the rapid expansion of our global route network, an enhanced on board product offering in all cabin classes and, most importantly, taking delivery of the world's most technologically advanced aircraft because we want our customers to have an unforgettable experience when they fly with us. This is an important moment in our growth, and I look forward to seeing our fleet grow even more in the coming years."
Qatar Airways is renowned for its state-of-the-art fleet. Last year, the airline became the world's launch customer of the Airbus A350-1000, symbolising Qatar Airways' determination to lead the way in the industry by pioneering and championing the latest technology and innovation. In 2014, the airline became the global launch customer of the Airbus A350-900, becoming the first airline in the world to operate every family of Airbus' modern airliner portfolio.
In January 2015, Qatar Airways deployed its newly-received, world-first, Airbus A350 XWB aircraft on the Frankfurt route and in 2016, it became the first airline to fly the A350 family of aircraft to three continents.