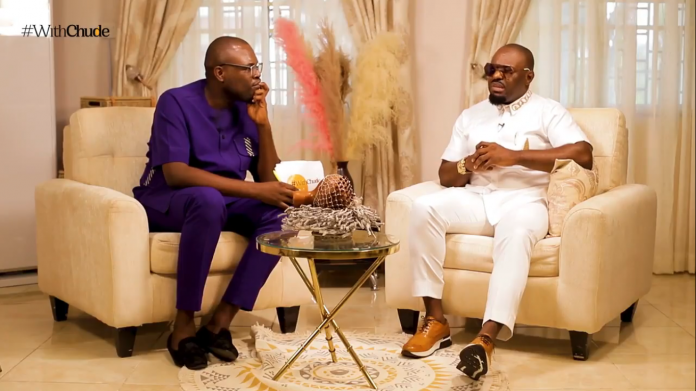 On a new episode of #WithChude, ace Nollywood actor, Jim Iyke sits with the host of #WithChude and co-founder of Joy, Inc., Chude Jideonwo about his journey in the creative industry, dealing with the loss of his mother, his experience with grief, and his failed marriage.
Speaking during the interview, Jim Iyke shares: "There is a part of me that will take the easy route. Everytime I did something mediocre in my life, I always did it when I was emotional, because I am extremely strategic and deliberate about everything I do.
I had suffered a loss. My mom was like my best friend, my co partner. People always wonder how he rise from some of these scandals, how he rises from things that are supposed to bury him. I had someone that speaks to a spirit part of me that nobody can speak to and I lost that. When I lost my mom, I could not find my feet for years. The lifestyle, spirituality, connection had already been lost.
I was not told until 72 hours after she passed. I was right in the middle of an interview in London. On the plane, while on my way back home after 72 hours, I asked myself, 'What would she have expected of me? To take charge.
I came and I took charge as the head of the family, I couldn't grief, I could not let myself feel.
When I was getting over it. My wife was pregnant with my first son. I had a quiet space. There was nobody to take care of, and because that was my medium to heal. All of a sudden the grief hit me, the loss hit me. I could not sleep unending days, I became irritable. I was no longer the loving man she married.
I lost my sense of humor. I lost the lion in me, and the leader in me. I just gave myself to the elements and she suffered for that. I became an obsessive dad, I took everything in me to my son and left her behind. I took all of my love and attention and I left her behind"

Watch video excerpt of the conversation here: