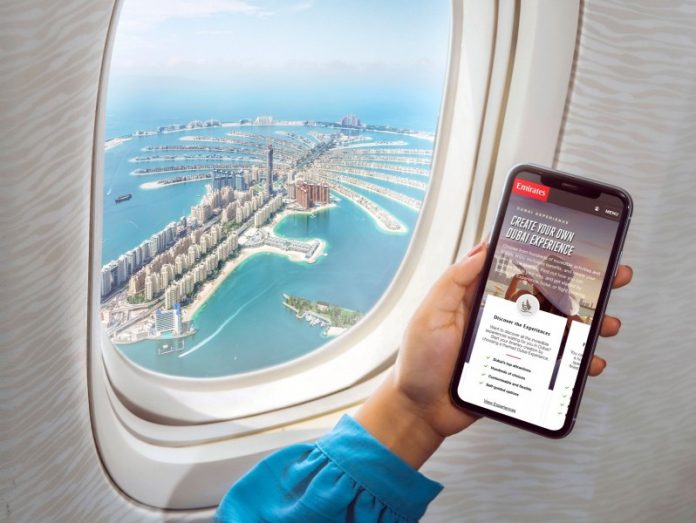 Emirates has launched its powerful and intuitive platform, Dubai Experience, which allows customers to browse, create and book customised itineraries, including flights, hotel stay, visit to tourist attractions, and other dining and leisure experiences in Dubai and the UAE.
The airline has curated a list of over 100 hotels and 200 activites, which its customers in 19 countries can select from, in building their customised itineraries and adding to their existing Emirates flight booking. Apart from being able to create their unique itineraries from scratch, travellers can also choose from pre-curated itineraries, including itineraries for specific interests, such as sports, culture, adventure, entertainment or the arts.

Emirates customers who plan and book their journeys via the Dubai Experience platform are entitled to 10% savings on their new flight bookings, discounted hotel rates and exclusive pricing on more than 200 activities. They will also have access to an easy-to-use itinerary planner which provides details on estimated duration, location map, cost, and an hour-by-hour view of the trip, thereby allowing for time maximisation during their trip. Through their flight booking, they can view and add to their itinerary at any time – on the Emirates website.

Speaking about the new platform, the Emirates Chief Commercial Officer, Adnan Kazim said, "We are proud to promote the very best that Dubai and the UAE have to offer on Dubai Experience, which is fully integrated with emirates.com. This powerful platform offers our customers the ability to plan their Dubai journeys and stopovers, and benefit from exclusive rates and expertly curated recommendations."

This development provides an opportunity for travellers to plan every detail of their trip from the comfort of their homes, offices, and diverse locations, with an expectation to experience the vibrance of Dubai and the UAE in a more exciting way.