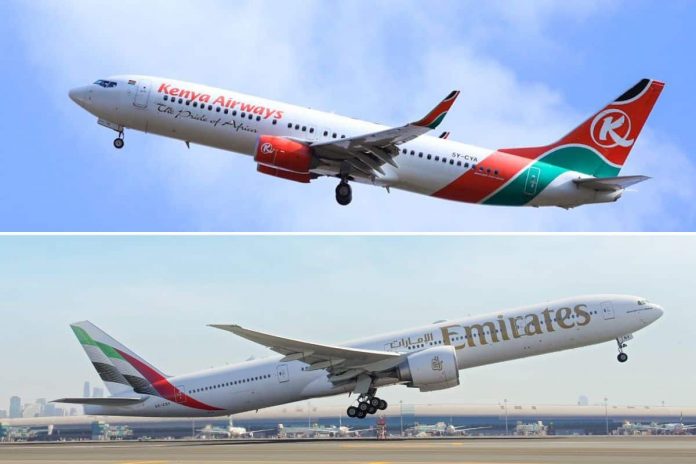 Emirates and Kenya Airways (KQ) have announced an interline partnership that will allow customers of both airlines access to new destinations on the two airlines' networks within a single itinerary. The agreement will provide customers with increased travel options as well as seamless baggage check-in to their final destination.
Emirates customers will now be able to fly to 28 destinations on the Kenya Airways network using Nairobi as the gateway to destinations such as Nampula, Bangui, Bujumbara, Kigali, Dzaoudzi, Lubumbashi, Kinshasa, Kilimanjaro, Juba, Zanzibar, among many other regional points across Africa. Additionally, as part of a bilateral interline arrangement, Emirates passengers travelling via Dubai can also book a single ticket itinerary from or to Mombasa, one of the most popular leisure destinations in Kenya.
Similarly, Kenya Airways passengers travelling from Nairobi and Mombasa will now be able to access the Emirates' network and seamlessly connect through Dubai to 23 destinations across West and South Asia, the Far East, the Indian Ocean and Middle East such as Singapore, Tokyo, Bangkok, Ahmedabad, Beirut, Hong Kong, Jakarta, Seoul among others.
The Chief Commercial Officer for Emirates, Adnan Kazim noted that Kenya is a strategic gateway in its Africa network, and with the new agreement, connectivity will be enhanced for Emirates' customers, providing them with more travel choices across the continent. "We look forward to deepening our relationship with Kenya Airways, offering greater network opportunities and improving connections for both of our customers", he said.
Speaking on the agreement Julius Thairu, Chief Commercial and Customer Officer Kenya Airways said, "This partnership will provide the ideal gateway for our customers as we seek to increase our connectivity between Africa and the Middle East through Emirates' hub in Dubai.  Partnerships like these are key in aviation as they take advantage of mutual scale and efficiencies to provide customers with more seamless travel options."