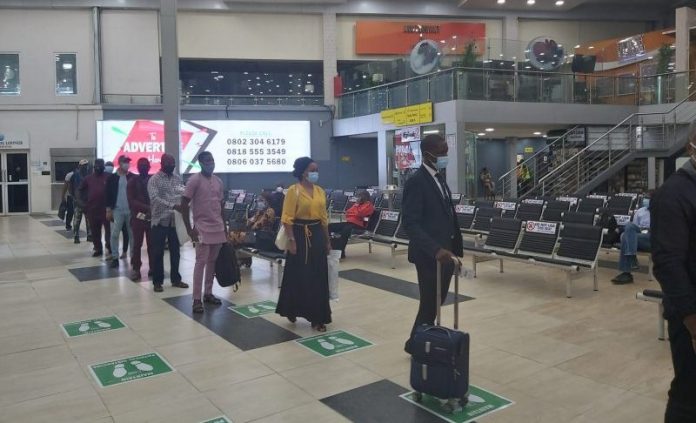 After about four months of no operation, airlines in Nigeria are now permitted to begin operations after the Federal Government of Nigeria announced the resumption of domestic flights. The flight resumption across airports within the country which was in phases began with flights resuming in Lagos and Abuja on the 8th of July, Kano, Port-Harcourt, Owerri and Maiduguri airports resumed on the 11th of July, while other airports are scheduled to open on the 15th of July.
Since the index case of COVID-19 was recorded in Nigeria and the consequent cases afterwards which led to airlines ceasing operations earlier in March, not many expected the the impact of the virus on this large scale, with flights postponed for over three months.
Prior to the eventual resumption of flights, there were mixed reactions, from stakeholders in the sector and even travellers. Some were of the opinion that with the rising cases, it was premature to open up the skies. Others felt it was either now or never, it was needed to save the operators. The sector was bleeding, and bleeding real bad.
Flights resumed at Lagos and Abuja airports with Arik Air, Air Peace, Max Air and Ibom Air operating at both the Murtala Muhammed Airport (MMA2), Lagos and the General Aviation Terminal (GAT) on Wednesday, June 8, while Aero Contractors and Dana Air joined flight operations the following day. Operations have also resumed at the Kano, Port-Harcourt, Owerri and Maiduguri airports with Azman Air joining the league of carriers
It was said that flights which operated on the first day experienced low passenger patronage as domestic which flew on Lagos-Abuja routes operated with about 50 to 60 percent load factor. Arik Air for instance, carried 78 passengers on its Boeing 737 aircraft which usually carries about 150 to 200 passengers. The number went up to about 80 passengers while on its second flight on Lagos-Abuja flight.
in adhering to the health and safety protocols and guidelines prescribed for travel as they subjected passengers to body temperature checks , washing of hands , luggage disinfecting and social distancing
This goes without saying that various precautionary health and safety measures were put in place at the airports and the Aviation Security Personnel attached to the Federal Airports Authority of Nigeria (FAAN) were available to ensure strict compliance by passengers. It was expedient for passengers to wear face masks and observe social distancing before they were granted access to the terminal building. Similarly, all passengers were made to wash their hands and use hand sanitizers. While temperature gauge was also provided to check their passengers' temperatures, luggages were disinfected, personal belongings for the scanners were put in transparent bags to avoid contact as much as possible.
One major significant change in recent operations is the hike in airfare, which is expected. Flight tickets on routes like Lagos to Abuja, Port Harcourt or Owerri increased by about 48 percent, from N33,000 and N41, 000 as against between N22,000 to N28,000.
Considering all, it is safe to say the aviation authorities as well as operators are putting everything in place to bring back people's confidence to fly again especially in these trying times.