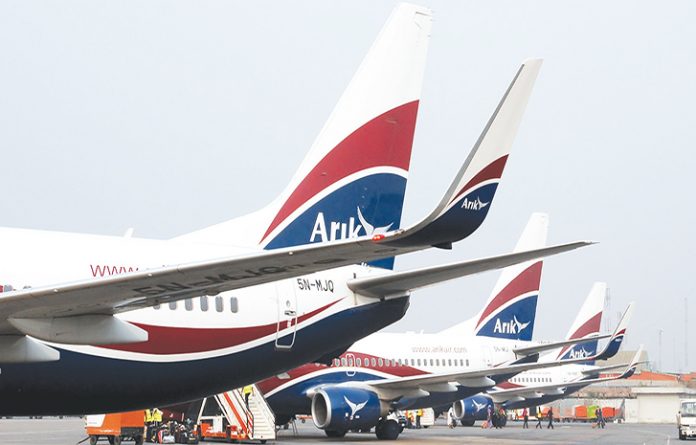 Our attention has been drawn to some media reports in which the founder of Arik Air, Sir Arumemi-Johnson and his lawyers mischievously and wrongly painted one of the Agents of the Canadian owners of the Aircraft, Alberta Aviation Capital Corporation, Canada (AAC) as a fraud for legally carrying out the instructions of his clients.
Captain Caulcrick was jointly appointed with Merchant Express Cargo Limited by AAC to tear down the CRJ1000 with MSN 19037, which legally belongs to them, the new owners, after the cancellation of the lease Agreement with Arik Air, the previous operator, due to many substantial and continued defaults in making outstanding payments to JEM (the Leasor/Owner). Therefore the press statement issued to the Nigerian media some few weeks ago did not emanate from JEM Leasing.
The defaults in Arik Air's obligations led to the de-registration of the aircraft by the NCAA from the NCAA's registry, July 22, 2022 – consent by the lien holder – the Export Development Canada (EDC), and ownership reverted to EDC the mortgagee. The aircraft currently has a Canadian registry allocation.
We categorically state that Capt Caulcrick was an authorized Agent of the new Canadian owners (AAC) of the aircraft and the process for the recovery of the aircraft followed all due process, all of which are properly documented.
Until contracted on the teardown project, neither Merchant Express nor Capt Caulcrick had anything to do with the cancelled lease or the de-registration of the aircraft by the NCAA.
We condemn in its entirety the efforts by the founder of Arik Air, Sir Arumemi-Johnson, whose airline is under receivership and his lawyers, to use the EFCC and some sections of the press to intimidate the authorized Agents of the legal owners of aircraft (AAC) in an effort to stop the owners from taking their aircraft in whatever form they choose back to Canada.
Capt Caulcrick is an outstanding Aviator that has worked all his life to protect the integrity and preserve the sanctity of the Aviation Industry in Nigeria and everywhere else – a dedicated aviator.
The effort to malign his person can only be the handwork of those that know they do not have any legal rights over the aircraft; otherwise, they would have approached the courts for an injunction to stop the teardown.
Using  EFCC and the media are not the tactics of those with legal rights. It only will harm the aviation industry, which could increase leases and insurance costs for future aircraft leasing for Nigerian operators in the future, while the action is contrary to the Cape Town treaty signed by the Nigerian government to protect the assets of foreign investors.
We are grateful that the Canadian government is escalating the matter at the diplomatic level to preserve their interest.