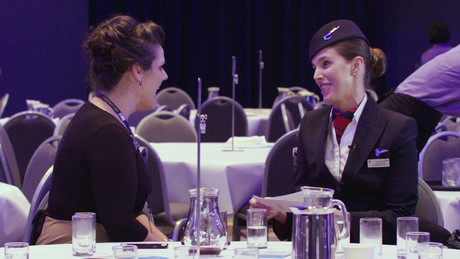 British Airways has launched a new channel on its inflight entertainment system dedicated to sharing heart-warming customer stories in which the airline has had a hand in adding a special touch of magic.
The new channel known as 'BA Magic' includes seven short films which feature customers being surprised, after writing in to the airline with a special request.
The stories take viewers to all corners of the globe from destinations like Cyprus, Las Vegas, Hong and Kong to Australia. The emotionally-charged videos which include family reunions, a marriage proposal and a special Christmas wish granted, were posted on the airline's Facebook page and have been some of the most popular videos the airline has ever released, racking up millions of views  from all over the world.
Carolina Martinoli, Director of Brand and Customer Experience, said: "There are magic moments that happen all over the world on flights and in airports as people take special journeys, and we've loved being part of helping create special memories for some very deserving customers."
The most popular video to date has been the story of Joe Dowd, a 47-year-old gentleman whose life changed overnight after suffering a brain injury which left him with significant physical and cognitive challenges. The video sees Joe, previously a high-flying business traveller, taking his very first steps back on an aircraft as he makes the emotional journey to see his family in Ireland.
In making the videos, British Airways enlisted the help of celebrities including Chris Froome, X-Factor stars Jack and Joel and performers from the musical Priscilla Queen of the Dessert, among others. The airline also received support to help create the 'wow' factor with partners such as Caesar's Palace in Las Vegas, Lamborghini, Xbox and Rangers football club.
To support the campaign, the airline has also been granting wishes for other customers who have written into the BA Magic team. The most recent surprise was granted for the England Deaf Rugby team when they checked in at Heathrow on their way to Australia  at the end of last week with a special desk for their departure and flight crewed by members of staff who were able to sign, and ensure they were given the VIP treatment on their journey.