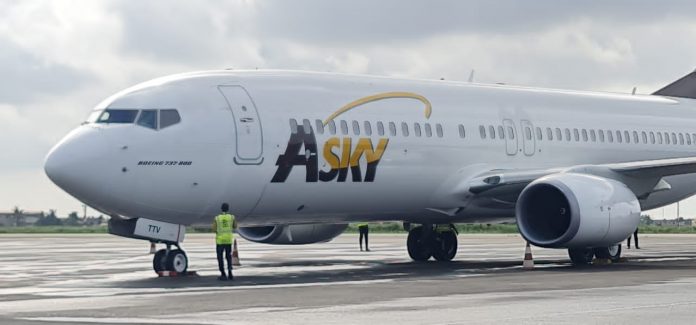 Asky, a leading West African regional airline, celebrated its 12 years of uninterrupted operations with the unveiling of its 12th aircraft in Lome, Republic of Togo.
The airline hinted that when its proposed maintenance and training facilities is completed, its West African hub, Lome, will be turned to a mega aviation hub.
While speaking at the 12th year anniversary of the airline, the chief Executive Officer (CEO) of the airline, Esayas Woldemariam Hailu recalled that many airlines which started operations at the same time with Asky airline, in the region, have shutdown. He therefore ascertained that the airline has come to stay even with fleet and routes expansion.
"This is the 12th year of Asky; since inception in 2010, and in these dozen of years, numerous airlines were born and died in the region. Asky is here to stay, alive and thrive growing in destinations to 25, and in aircraft to 12. Today we brought our 12th aircraft at our 12th year of formation, And this is the very first aircraft to be registered in Togo, which makes is a historical land mark," Hailu said.
He therefore informed the gathering that the airline would in the next five year increaseits fleet to 20 aircraft with added routes.
In the next five years, we plan to grow to 20 aircraft and launch more routes in Africa and elsewhere.
Besides fleet and route expansion the CEO added, "we also plan to build maintenance and training centers to serve the region, thereby turning Lomé a mega aviation hub."
The Chief Executive Officer who commended the employees of the airline for their bravery and commitment; leading to success, didn't fail to salute the vision and wisdom of the founding father of the airline Chief Koffi Djonjo
He said: "As part of our success factors, we enlist the support of the Government of Togo, The President, The Prime minister, All the cabinet Ministers, ANAC, STH, ASAIGE, SALT, etc. I am also proud of the brave and hard working men and women, employees of Asky, for their contributions which cannot be substituted.
"Most of all, I would like to pay homage to the patron of Asky, the founding farther, the visionary person who established Asky in his infinite wisdom, to serve the nation, the region and the continent, Chief Koffi Djonjo. I salute him.."
Excellences, ladies and Gentlemen, Thank you for gracing this event of the arrival of our new 12th aircraft, which is the 1st to be registered in Togo, and many more are to come.