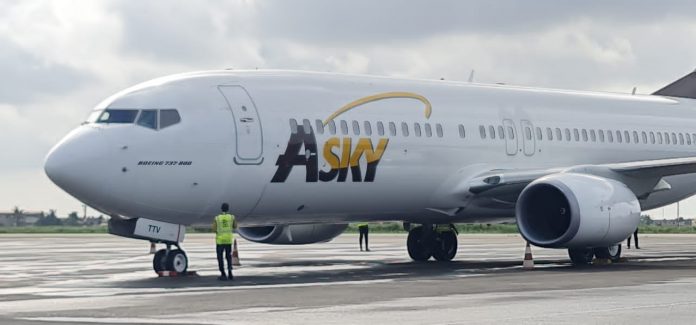 ASKY is celebrating a new chapter in its history as it has announced the launch of its inaugural flight to Nairobi, Kenya. This flight marks an important milestone in the airline's continued expansion and reinforces its commitment to air connectivity.
ASKY's inaugural flight to Nairobi took off from the Lomé hub at 12.40pm on Sunday 01 October 2023 and landed at Jomo-Kenyatta International Airport at 9.25pm local time.
This direct flight to the Kenyan capital, Nairobi, will offer travellers a new, comfortable, convenient and reliable transport option between West and East Africa.
Speaking on the development, Mr. Esayas Woldemariam Hailu, Chief Executive Officer of ASKY, said: " We are extremely proud to launch our inaugural flight to Nairobi. This new route reinforces our commitment to connecting African cities and supporting the economic growth of our continent. Nairobi is a major economic and cultural destination in East Africa, and we are confident that our quality service will meet the expectations of both business and leisure travelers."
Mr. Caleb Kositany, Chairman of the Board of the Kenyan Airport Authoity, representing the Minister of Transport, made some interesting remarks about the future, unveiling ambitious plans for the construction of a new modern terminal at JKIA.
This important initiative reflects Kenya's unwavering commitment to strengthening JKIA's role as Africa's premier hub, serving as an optimal gateway to and from East and Central Africa.