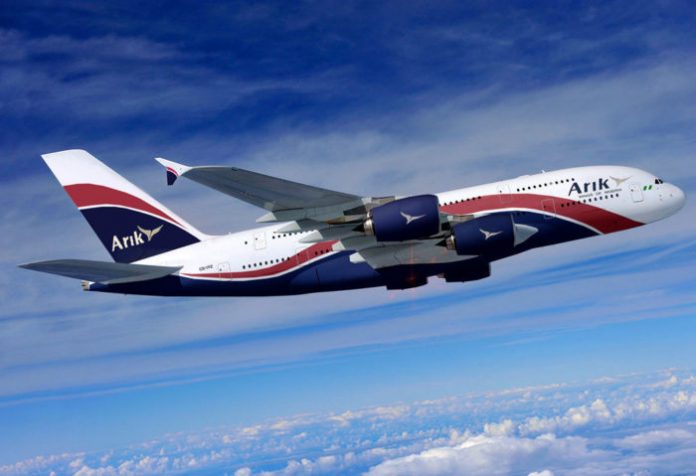 Workers of Arik Air on Tuesday organised a rally at the airline's headquarters in Lagos to protest the planned invasion and shutdown of their office by members of two aviation unions – Nigerian Union of Aviation Professionals (ANAP) and Nigerian Union of Pensioners (NUP) in Federal Airports Authority of Nigeria (FAAN) branch who planned to frustrate the issuance of Air Operators' Certificate (AOC) to the new carrier to be floated out of Arik Air – NG Eagle Airlines  by the Nigeria Civil Aviation Aviation (NCAA)  over certain debts owed to FAAN and other aviation agencies.
Speaking  at the rally, representatives of the workers : Comrade Ogunlesi Afeez ,  Chairman ,National Union of Air Transport Employees (NUATE) Arik Air branch said members of ANAP and NUP FAAN branch were threading on an acrimonious path by engaging in debt collection and doing the bidding of their paymasters in the name of trade unionism.
He said only NUATE, National Association of Aircraft Pilots and Engineers (NAAPE) and Air Transport Services Senior Staff Association of Nigeria (ATSSSAN) which are operating in the two airlines as unions have stake and authority to involve in their affairs, describing ANAP and NUP as unwelcome interlopers. Ogunlesi said : " Besides, the issues that are of importance to Arik Air Staff at this time remain the painful circumstances which have kept many of colleagues at home on compulsory leave without pay and how to achieve smooth transition for employees of Arik Air to NG Eagle Airlines without loss of their service years." We find no discernable nexus between the debts of Arik Air and the AOC of NG Eagle Airlines. It is dumbfounding that ANAP and NUP have the conviction that AMCON will pay debts owed by the legacy owners of Arik Air if the AOC of NG Eagle Airlines in which AMCON has interest is withheld . There is no good basis for such thinking.
He called on the NCAA to disregard the threat by ANAP and NUP and perform its normal duties with regard to issuance of AOC under the Nigerian Civil Aviation Regulations in which ANAP and NUP have no role to play. " We warn ANAP and NUP to stay off the affairs of Arik Air and NG Eagle Airlines . Should they fail to heed this warning and proceed in any attempt to cause any disorder in the airlines, they will have workers to contend with as we are absolutely able to defend ourselves."
Also speaking, General Secretary of NUATE, Comrade Ocheme Aba said it was untenable that unions were allowing themselves to be used to foment  trouble in the industry. He said the national body of NUATE would step into the matter , assuring that the NCAA would not reduce its integrity by allowing third parties external to its AOC issuance process to dictate to it how to discharge its statutory functions.