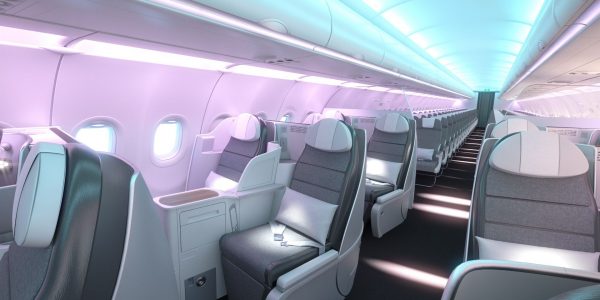 Airbus showcases its new cabin innovations at this years' Aircraft Interiors Expo in Hamburg, Germany – the world's largest event dedicated to the aircraft interiors industry, in-flight entertainment, connectivity and passenger services.
The stand this year (Hall B5, Stand 5A20) is Airbus' largest ever at AIX – around 550m². Here the domains of Airbus Commercial Aircraft, Services by Airbus and Airbus Interiors Services (AIS) are integrated at one prominent location at the expo.
In terms of Airbus Commercial highlights, the centrepiece at this year's event is our latest A320 Airspace cabin mockup. This will feature a welcome area with patterned lighting effects, full-flat seats, Airspace XL bins and a lavatory, and will give visitors a good appreciation of the high comfort which our new transatlantic-capable A321LR will enable passengers to experience when it enters service in the near future. A second large mockup at the Airbus stand demonstrates Airspace in a partial A330neo cabin section.
There are numerous visual displays at the Airbus stand and 3D-printed models of cabin enablers and galley arrangements plus other innovations. One can also explore all Airbus aircrafts' Airspace cabins in full 3D virtual reality. Furthermore, visitors can try out our new "A320 Plane it yourself" digital cabin and systems configurator, as well as the innovative "I flyA380.com" kiosk.
Meanwhile, Services by Airbus, co-located at the Airbus stand, is displaying its A320 mock-up providing an overview on the latest solutions for in-service single-aisle fleet, as well as its latest A330 cabin enablers for retrofit. In addition, the "Day & Night" premium dual suite module from AIS is demonstrated for the first time in full-scale mockup form for A350 customers.
This year Airbus is proud to have been shortlisted four times in the prestigious Crystal Cabin Awards for the following achievements: The A320 Family Airspace Interior; a new "Printed Electrics" / "Info-Panel" (in cooperation with Altran); Gigabit Wireless Networking in Aircraft Cabins via "Light-Fidelity" (LiFi) – with the University of Edinburgh; and the "Day and Night" new cabin premium class product (offered by our subsidiary AIS). The Crystal Cabin Awards ceremony is held on the evening of Tuesday 10th where the winners will be revealed.