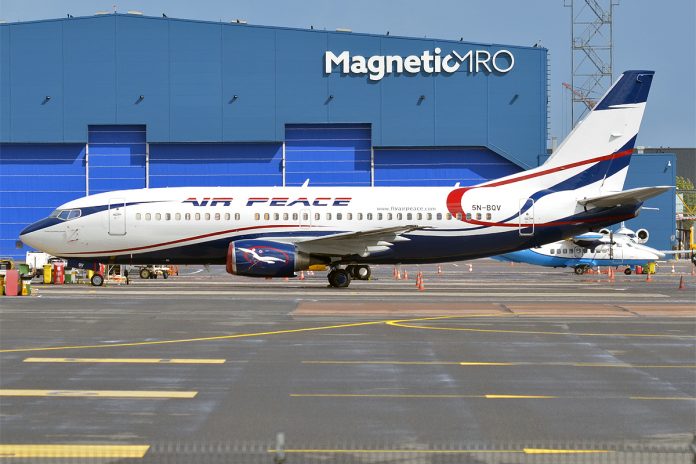 Nigeria's foremost airline, Air Peace is set to add to its fleet, three more Boeing 777 aircraft as it opens its Johannesburg, Mumbai, Guangzhou.
The Chairman of Air Peace, Allen Onyema stated this at a dinner held in honour of the airline's successful flight into Sharjah, the United Arab Emirates (UAE).
According to Onyema, the airline has been given permit to commence services into South Africa but is still in perfecting agreement to partner airlines as it does not intend to be a point to point carrier.
Onyema stated that airline is expected to launch flights to Johannesburg before August 30th, 2019 but that an agreement had to be made with a local carrier that would take its passengers beyond Johannesburg.
He also announced that the airline at the same time or in September will commence India, depending on what happens.
In his words, he said "We might be doing Johannesburg and India almost at the same time or at most in September. The Indians are calling for us and we have already started fulfilling their requirements. The Federal Government has also written Indian Government and asked them to give us support.
"So at most second week of September. We are looking forward to discuss with Air India which is key so they can fly our passengers beyond India.
Speaking further, Onyema said, "We are going to Guangzhou in November. When we started acquiring aircraft, we were unjustly criticised without the critics understanding. If you do not have at least three long haul aircraft, or a lease of three aircraft of those specifications the Chinese will not give you the permit"
"Our Ambassador in Beijing gave us all the support and cooperation to make this come to fruition and make it easy for Air Peace but before they give you that permit, you have to show them your aircraft, with its tail sign or its lease documentation. So if Air Peace did not buy those aircraft…"
Onyema also called on government to emulate America and stop unfair competition as it affects local airlines.
"Government must stop unfair competition if we are to survive. It must end proliferation of routes and handing out multiple designation to foreign carriers. How can an airline fly into almost every Nigerian city, or still fly from Abuja to Port Harcourt to pick passengers, if you want our airlines to survive and sustain jobs it creates you will not give multiple entries to foreign airlines," he lamented.