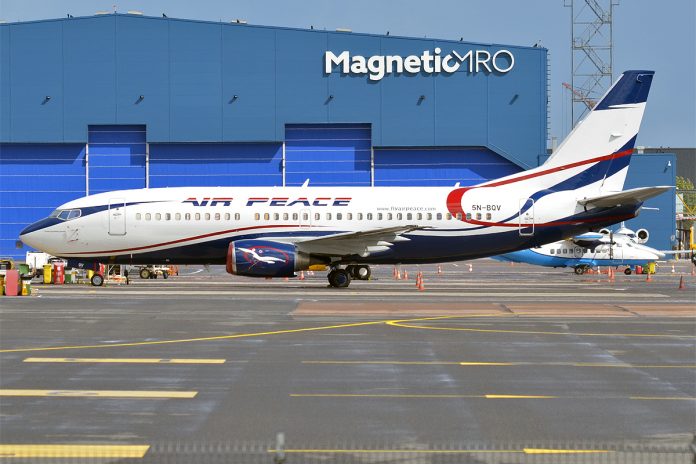 Foremost Nigerian carrier, Air Peace has pledged to provide employment for some victims of human trafficking who have been successfully rehabilitated by the National Agency for the Prohibition of Trafficking in Persons (NAPTIP).
Air Peace Chairman, Mr Allen Onyema and Mrs Julie Okah-Donli, the Director General of NAPTIP The airline said the partnership was part of its contribution toward supporting the Federal Government's efforts in curbing human trafficking in Nigeria.
The Chairman of Air Peace, Mr Allen Onyema, spoke on Thursday in Lagos during the presentation of Ambassadorial Medals to Air Peace Limited and 12 pilots and crew members of the airline by NAPTIP.
Reports have it that the Air Peace crew had on June 4, 2018 foiled an attempt by two Nigerian women to traffic a three-month old baby boy from Nigeria to Banjul, Gambia.
Onyema, while thanking NAPTIP for the recognition, maintained that Air Peace currently had over 3,000 employees with about 80 per cent of the workforce being women.
According to him, available statistics shows that majority of the victims of human trafficking are women and children, due to lack of empowerment opportunities.
Onyema said the airline would continue to contribute to national development by creating employment for Nigerians and also enhancing connectivity to improve businesses.
He said it was unfortunate that some young Nigerians were being trafficked to other countries where they are subjected to prostitution and other dehumanising conditions.
Onyema said:" NAPTIP has been doing a great job in curbing human trafficking, but we cannot leave it for government alone.
"Air Peace will join hands with you to tackle this menace. We will help in the rehabilitation of some of the victims by providing employment for them in our organisation.
"It is not enough to rescue these victims and bring them back to Nigeria, but they should also be rehabilitated and reintegrated into the society.
"So, we are doing this to transform their lives and make them to know that they can earn money doing legitimate jobs, whether they are educated or not."
He, therefore, enjoined other corporate organisations and well-meaning individuals to support NAPTIP in the campaign against human trafficking in the country.
Earlier, Mrs Julie Okah-Donli, the Director General of NAPTIP, commended the Air Peace crew for foiling the trafficking of the baby.
She said the suspects apprehended over the incident in Banjul had no biological connection to the child and failed to provide valid adoption documents.
Okah-Donli said the baby was brought back to Nigeria on March 19 and was under the care of NAPTIP, stressing that the agency was working with the Gambian authorities to extradite the suspects.
She said: "This ceremony represents NAPTIP's determination to recognise and encourage such feats which contribute to the stemming of the tide of human trafficking in Nigeria.
"We are proud to present an award to Air Peace Limited and to decorate the chairman of the airline and those gallant crew members with ambassadorial medals. "
The DG said human trafficking involved the transportation of persons from one place to another, stressing that airlines and transport companies should emulate the vigilance displayed by Air Peace.