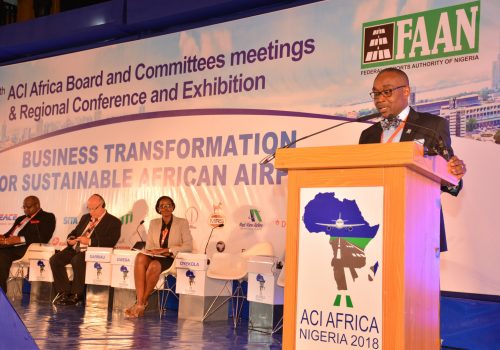 Aviation stakeholders in the country have been called upon to come together for the upward transition of airports across the continent. This call was made at the ongoing ACI Africa 2018 conference which held at Lagos Oriental Hotel, Victoria Island, Lagos.
According to the Secretary-General of the Federation, Boss Mustapha, African states still need to upgrade facilities, improve operations, service quality, security and airspace safety. He explained that it is clear that ACI and the Federal Government of Nigeria are in sync with the development of aviation industry in Africa. He explained that the theme of the conference which is Business Transformation for Sustainable African Airports is vital at a point when most African countries including Nigeria are intensifying efforts to improve airport infrastructures to boost the continent's economic development.
Giving statistics, he said the nation's aviation industry in 2017 facilitated the movement of over 7.6 million passengers, 109 million tonnes of cargo and recorded 89 million aircraft movement. This explains the importance Nigeria attaches to the sector.
"In Nigeria, majority of airports infrastructures are government owned. This administration has continued to promote infrastructural development, facilities renewal and the implementation of policies and facilitating the growth and sustainability of the sector. For sustainable development of African airports, new strategies must be employed. These strategies include holistic planning for defined developmental targets, effective and efficient financing and successful implementation", Mr. Mustapha went further.
In her speech, the Chairman, House Committee on Aviation,  Mrs. Nkiruka Onyejeocha expressed that taking the theme of the conference, it's evident that the Nigeria aviation industry is on the right track thinking for the future. She reiterated that as in times past, the Nigeria parliamentary system is in full support of the aviation industry.
Panel discussants at the conference talked about why it is important that a lot of attention is paid to airports development across the continent. In their opinion, managing airports means managing a lot of risks on a daily basis. Therefore investments in technology, service provision, infrastructural development and capacity
In order to transform aviation business in Africa, countries have been advised to ensure the continued attainment and maintenance of global safety standards, strive to achieve competitiveness and user-friendliness, install infrastructure and navigational tools to maximize, develop a navigated multi modern transport services around the airport,  diversify revenue lines so that earnings are not just from the airlines but also from the airports.