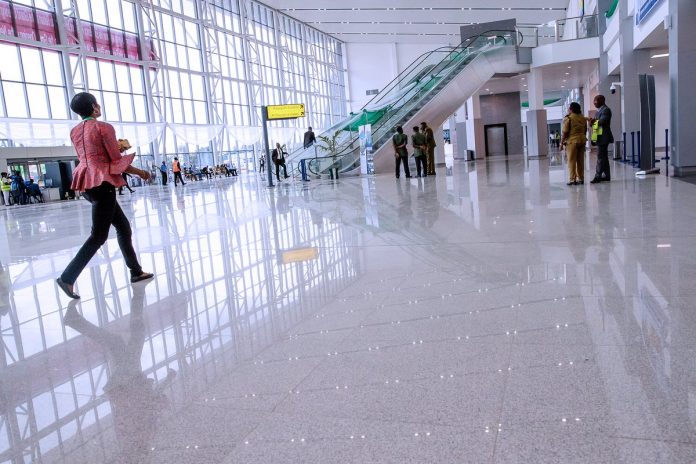 The Federal Government of Nigeria yesterday stated that it is adding another two weeks to the closure of international airports in the country due to the COVID-19 pandemic. The information was made known to the public by the Minister of Aviation, Hadi Sirika.
Sirika announced the extension on Twitter, stating that the airports would no longer open for commercial operations on April 23 as earlier announced when they were shut down due to the extended lockdown in the three cities.
His tweet read, "As a result of the extension on lockdown by Mr. President, it is no longer possible for us to open our airspace and airports for normal operations by the 23rd April 2020.
"They will remain closed for a further two weeks. This is subject to review as appropriate."
Recall that the FG shut all international airports in the country on Monday, March 23 for one month.
President Muhammadu Buhari , had also extended the closure to all local airports in the country while announcing 14-day lockdown in Abuja, Lagos and Ogun States on March 29.
On April 13, the president had extended the lockdown in the three cities by two weeks.
However despite this closure, airports in the country are open to emergency and essential flights as with recent evacuations reported.
Meanwhile, the Minister has equally announced that payment of defunct workers of the Nigeria Airways has not been relegated to the background stating that the Civil Aviation Ministry has done its part and is left with the Ministry of Finance and Pension Transaction Arrangement Directorate (PITAD) to ensure payment.
Sirika while reacting to questions from the presidential Task Force Briefing on COVID-19 said the 50% balance payment will be made soon.
He said, "Remember in 2004, the Nigeria Airways was liquidated and the staff were left without payment for a long time, when we came on board in 2015 despite the recession, dwindling national revenues, the president saw it as important to pay the workers and paid 50% of the total money and promised it would pay the rest, that will be done."
"At the civil aviation level, we have done everything provided the list and all so it is now between the Ministry of Finance and PITAD that will manage the payment," he said.