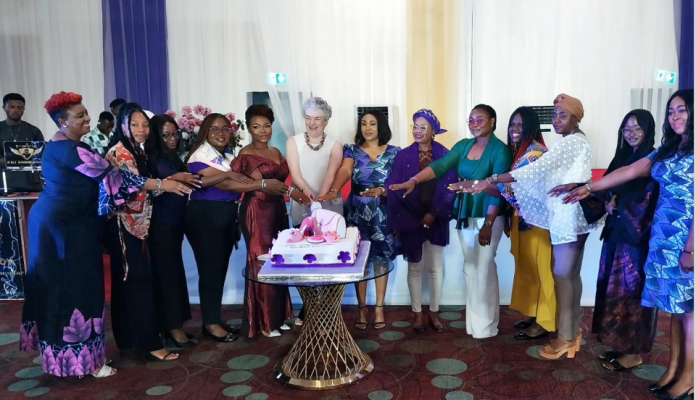 In honor of International Women's Day (IWD2023) 8th, March 2023, Abuja Continental Hotel hosted a special Dinner which brought together women from a myriad of industries, sectors, and backgrounds at the hotels Ladi Kwali Conference Center.
The theme of the event #embraceequity in line with the IWD 2023 theme delivered a lineup of exciting, fun and female centered activities. The day commenced with a colorful exhibition tagged entrepremoms where women in retail, fashion and luxury were granted concessions on space to display merchandise.
The General Manager of the Hotel opened the main dinner event at 6pm with a welcome address which conveyed a call for inclusivity and female support followed by the Women's global anthem which was passionately sung by all. A curated purple carpet area provided ample opportunities for networking amongst some of the country's most aspirational women, creating a forum for unforgettable moments to be captured.
Female-Centric finger food, mixed cocktails served in large coconut pods and pineapple carvings prepared by the hotel's food and beverage teams lent much more panache to the night.
Dr. Nnedimma Iwueke, the Medical Director of Teroka wellness International was on ground to talk about women's health in line with stress management. Abuja Continental's lead entertainment provider, Masi Prosper, delighted the audience with rib-cracking comedy and fun interactive games which led to people winning prizes ranging from free hotel stays, lunches, dinners to gift and vouchers at the hotel.
The highlight of the evening emerged with a salsa dance, an energetic Nigerian dance performance by Ade's cultural troupe, performing dance from major Nigerian ethnic groups.
The themed cake presentation and cutting unveiled an additional highlight which brought all the women in attendance together , encouraging reflection and celebration. Abuja Continental Hotel's Director of Sales and Marketing, Vindi Suleiman delivered the closing remarks as follows "Our International Women's Day event 2023 forms part of Abuja Continental Hotel's CSR campaign to celebrate and promote the strength and resilience of us women and to push for empowerment and gender equity within the community in which we operate".
"I sincerely thank all our partners that supported us; Innate Arts and Media Nigeria (IAM), Nigerian Breweries Plc, 7UP Bottling Company Plc, Jacaranda Casino as well as Barok Nigeria ltd".
"We look forward to sharing with our valued customers more of such activities we have planned for the year. "Concluded Vindi.